Haan Dynasty Terracotta Sculpture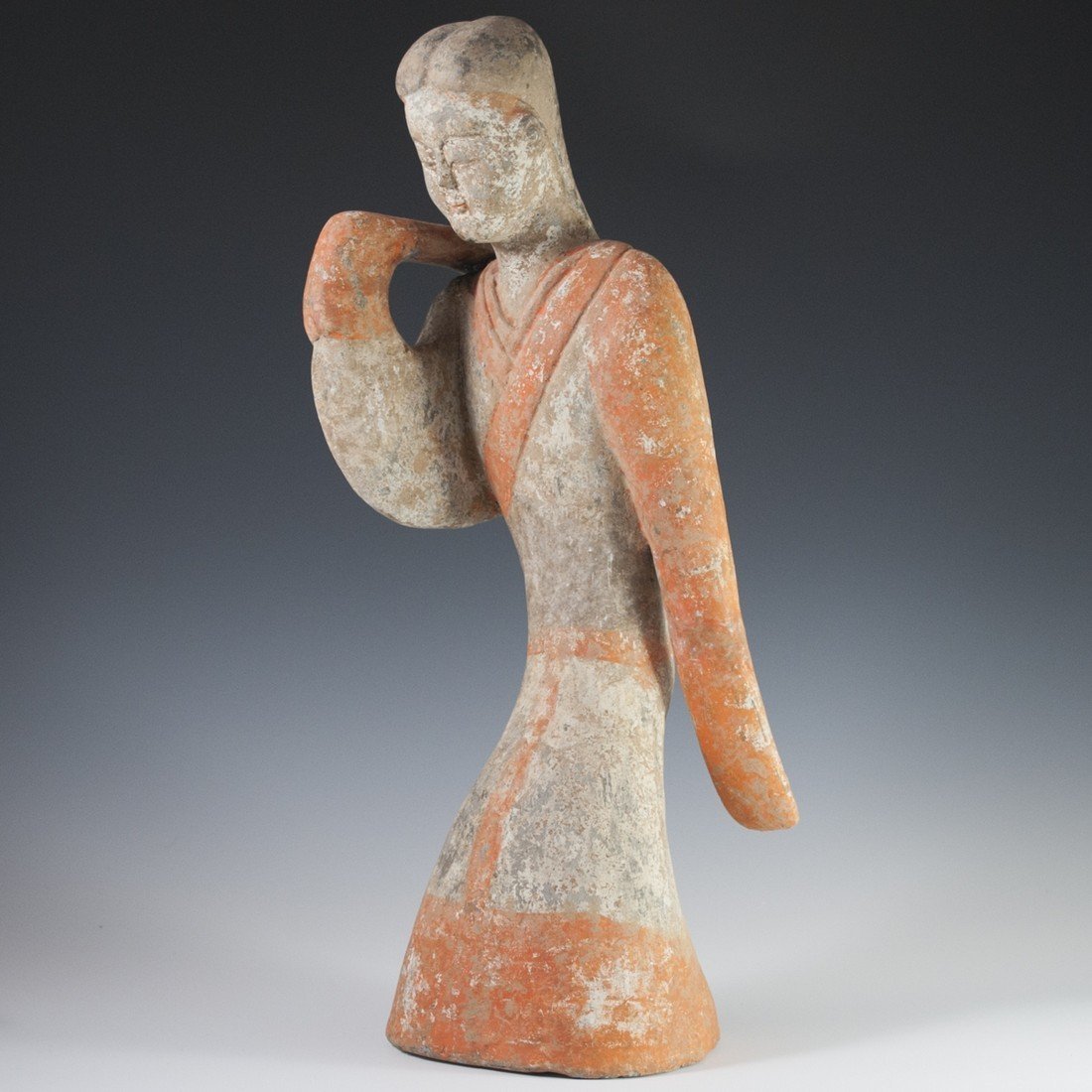 DESCRIPTION: Haan Dynasty terracotta sculpture of a dancer bending her head downwards and extending her right arm over her shoulder, the other by her side. Painted in orange and earthy tones.
CIRCA: 206 B.C.- 25 A.D.
ORIGIN: China
PROVENANCE: Purchased by consignor from Hong Merchant Shanghai in 2006. Original Invoice included.
DIMENSIONS:H:24″ L:8″ W:8″
When one thinks of terracotta, China, and the Han Dynasty, it would more often than not be assumed one meant the incredible excavation of the terracotta army excavated in 1984. After the impressive excavations on the Xian Terracotta Warriors and Horses of the Qin Dynasty, the discovery of these warriors have astounded archaeologists and antiquities collectors since their founding.
Impressive detail, and archaic style pervade this piece as one can almost see the figure dancing with the robes around her arm enveloping her shoulder. Remarkably the paint is still visible, the piece is in perfect condition, and when one sees it in person, one can only marvel at the owner of the eyes who have gazed upon it in the last two thousand years.
This piece was acquired from the estate of a prominent contemporary Chinese antiquities collector in Miami Beach, Florida. Now available for bids on the following platforms: liveauctioneers.com, invaluable.com, thesaleroom.com, and for absentee and telephone bids: akibaantiques.com for our August 16th sale at 3:00 p.m. ET.
---
‹ Back