Yuan Dynasty Standing Bodhisattva (13th Ct.)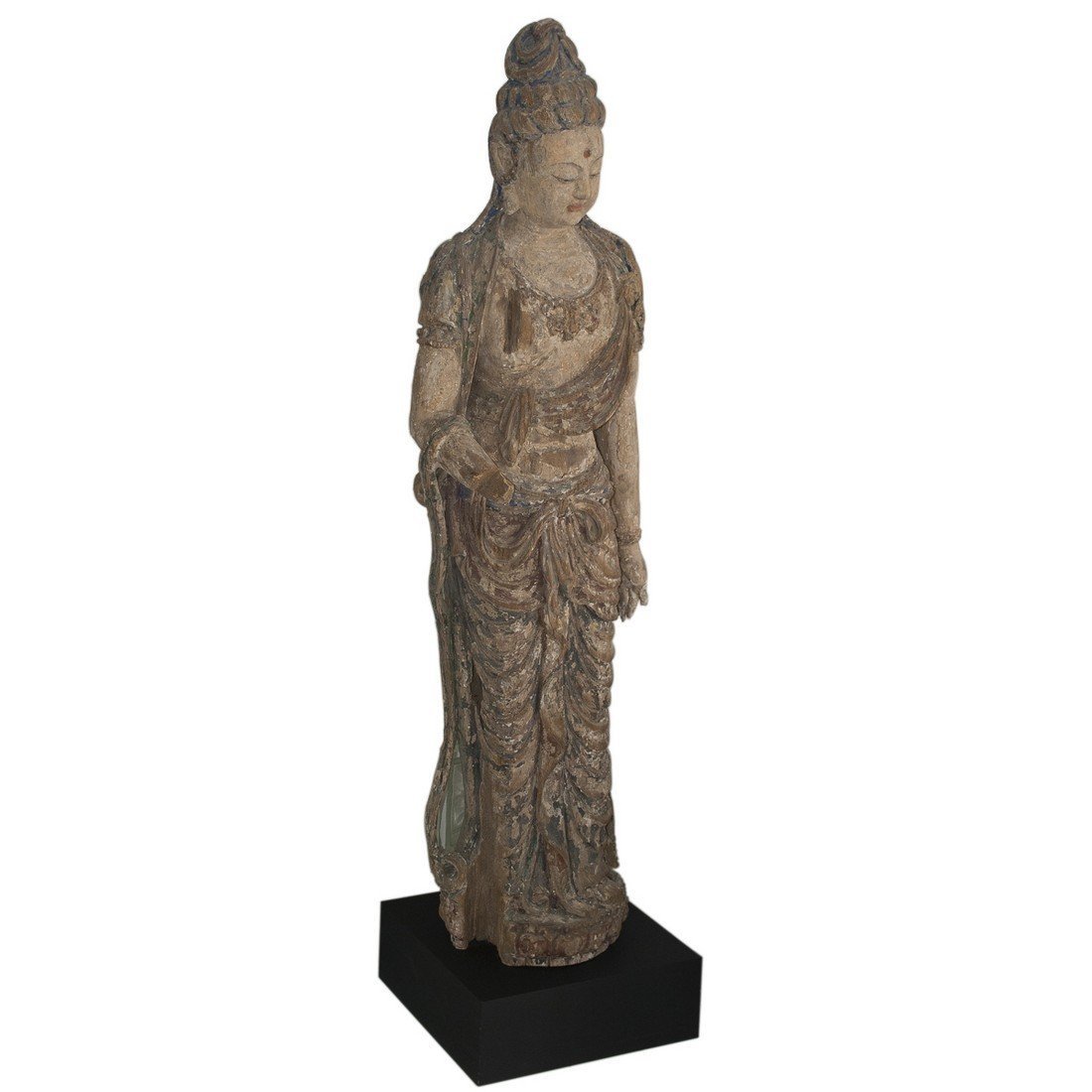 DESCRIPTION:A Yuan Dynasty standing Bodhisattva comprised of carved, painted wood. Influenced by the style of the Gandhara school transmitted with Buddhism through the Silk Road from Afghanistan to China. She is seen here draped in flowing garments with paint remarkably still visible. From the Shaanxi Province.
The Gandhara art movement primarily arose in northwest Pakistan and Eastern Afghanistan between the 1st century BCE and 7th Century CE. What sets Gandhara visual art apart from others in the region, is its inception in classical Roman influences as seen with the scrolls, other times with cherubs, and as seen in this statue, gilded paint, still visible.
CIRCA:13th Ct.
ORIGIN:China
DIMENSIONS:H:50″ L:29″ W:15″
CONDITION:Minor age appropriate wear. One hand is missing (originally purchased that way as stated in original invoice.) Great overall condition.
PROVENANCE: We recently acquired this piece from a prominent Asian antiquities collector in Miami, Florida. Purchased by consignor from Hong Merchant of Shanghai in 2003 and includes original invoice as well as certification from the merchant.
This piece is now available for bids on the following bidding platforms: liveauctioneers.com, invaluable.com, thesaleroom.com and for absentee and telephone bidding, akibaantiques.com for our August 16th sale at 3:00 pm ET.
---
‹ Back